Extrusora de un solo tornillo de escritorio PLC
Escritorio pequeño extrusor de un solo tornillo eqiuipped con sistema de control de PLC, puede establecer y controlar todos los parámetros.
The small plsatic single screw extruder is suitable for polymer processing molding, especially for a small amount of samples for scientific research and development, to simulate the plastic processing of various aspects of continuous and discontinuous process, especially suitable for the teaching and research and development.
El extrusor de un solo tornillo de plástico de escritorio es pequeño y conveniente, es la mejor opción para la prueba de laboratorio y producción a pequeña escala.
Parámetros:
| | |
| --- | --- |
| Screw diameter | 20 |
| Length diameter ratio | 1:25 |
| Screw speed | 0 - 90 rpm frequency control |
| Power supply | 3 ∮, 50 Hz, 5 lines |
especificación:
1. Tornillo de material / barril: M ade de acero al cromo-molibdeno 38CrMoAl.
Zona 2. Calefacción: cuatro calentadores de mica están en el área de carga de barril, un calentador está en el área pieza de mano. Cada área tiene un ventilador de cobre cubierto con protector de viento de seguridad.
3. instalación de refrigeración: Tres grupos de ventiladores múltiples ala para enfriar el aire en silencio y con fuerza.
4. Sistema de conducción: La precisión del motor de reducción de engranajes de rotación y distribución de desaceleración integración.
Sistema 5.Intensidad de control: pantalla táctil de color programable PLC, hombre-máquina sistema de funcionamiento de la interfaz.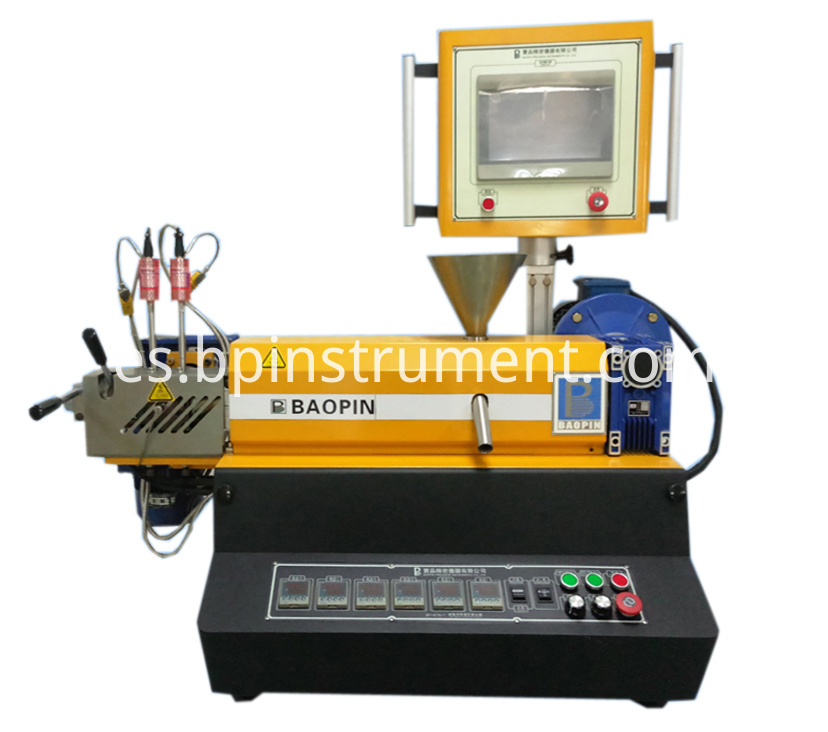 Grupos de Producto : Serie Extrusora de Laboratorio