Extrusora de doble husillo de escritorio de control PLC
El escritorio twin extrusder tornillo se usa para extruir plástico fundido para la fabricación de productos de plástico como tubo, hoja, perfil, y así sucesivamente. Además, puede usarse para peletizar. Es conveniente para el plástico del PE PP. Es avanzado y con buena calidad, con alta capacidad en plasticizing, y tiene consumo de energía más bajo.
El control PLC escritorio extrusora de doble tornillo es pequeño y conveniente, es la mejor opción para la prueba de laboratorio y producción a pequeña escala.
Parámetros:
| | |
| --- | --- |
| Output | According to the raw material formulation process |
| Screw diameter | 20 |
| Length diameter ratio | 1:18 |
| Screw speed | 0 - 120 rpm frequency control |
| Power supply | 3 ∮, 50 Hz, 5 lines |
especificación:
1. Dirección de tornillo: Parallel y la misma dirección
2. Modo de Compuesto: El modo de compuesto de la suite de tornillo está construyendo espiral bloque y la de la barril máquina es multi-sección.
3. La zona de calentamiento: Carga de área barril tiene 4 calentador de aluminio, 2 calentadores en la pieza de mano y el exterior cubierto por campana del ventilador de seguridad.
4. instalación de refrigeración: Multi-alas fuerza ventilador de refrigeración en condiciones súper quiescente.
5. Sistema de conducción: La precisión del motor de reducción de engranajes de rotación y distribución de desaceleración integración.
Sistema 7.Electric de control: pantalla táctil de color programable PLC, hombre-máquina sistema de funcionamiento de la interfaz.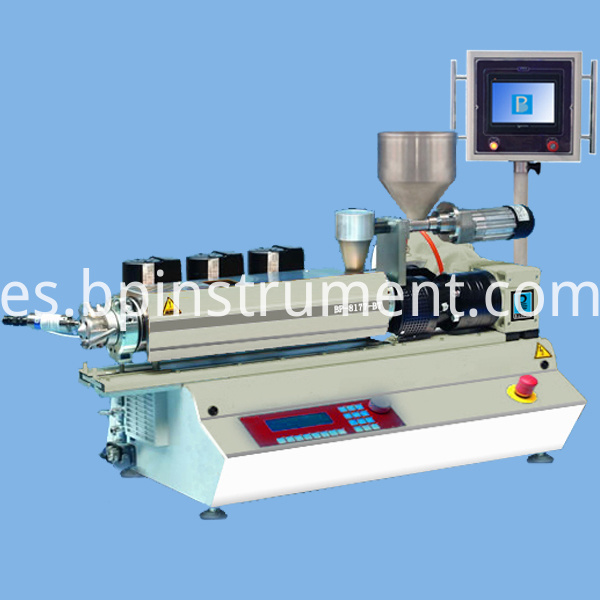 Grupos de Producto : Serie Extrusora de Laboratorio